Hacking incidents – and the number of records exposed by hackers – are on the rise. The healthcare industry is a prime target for cybercriminals. However, many healthcare organizations aren't prepared to deal with the threat. As they adopt new cutting-edge technologies, their cybersecurity struggles to keep pace. Consequently, cybercriminals exploit these vulnerabilities to gain access to data.
What can you do to protect your organization from cyber-attacks? First things first: you must meet the HIPAA Security Rule requirements. Beyond that, you should also create a culture of cybersecurity with your team. Get started with these five easy steps.
1. Password Management
Passwords are the weakest form of protection. Nevertheless, you should still take password security seriously. In fact, poor password management can break an organization's entire cybersecurity system. Therefore, make sure your staff is aware of password management best practices, including:
Password length and complexity. Be sure to create strong new passwords after old ones have expired.
Secure password storage. Keeping passwords on sticky notes or under the keyboard is not secure! Use a secure password manager. It will also ease the temptation to reuse the same password over and over again.
Password privacy. Don't share passwords. Period.
2. Phishing Awareness
Up to 91% of cyberattacks on healthcare organizations can traced to phishing emails. Phishers bait you into opening infected email attachments or links. They trick you by pretending to be a legitimate source. Employees who are unaware of phishing scams may take the bait and spread malware onto your organization's systems.
Phishing scams aren't only online. Social engineers are phishers who use their tricks over the phone or face-to-face. They use wit, charm, and deceit to gain trust and, ultimately, sensitive data. Make sure employees are wary of callers who ask for sensitive information over the phone, as well as people who try to gain access without proper authorization.
3. Social Media Policies
Employees' use of social media, whether at work or at home, can pose risks to your organization. Social media is a hunting ground for cybercriminals. Employees who use social media on their work computers run the risk of accidentally infecting them with malware. Therefore, consider having a social media ban at work, even while employees are on break.
Furthermore, banning social media at work gets rid of the temptation to snap a selfie and post it. This is a dangerous practice in an environment where PHI and patients are everywhere. Train your staff on the dangers of social media and how they can secure their social media accounts.
There are many vulnerabilities in workstations that you should address. Here are a few steps to take:
Automatic logoff. Set up automatic logoff on workstations so they won't be accessible to others when employees step away from their desks. You should instruct staff to lock their devices before leaving them, even if it's only for a minute.
Physical safeguards. Position workstations so that the public can't see them. Also use other safeguards, such as attaching laptops to the desk.
Access controls. Enable access controls to limit who can access PHI from devices.
Antivirus. Use enterprise-level antivirus and antimalware to protect your devices against attack.
Audits. Set up automatic audits of your workstations and regularly review the audit logs.
5. Cybersecurity Training
The HIPAA Security Rule requires you and your business associates to train staff on policies and procedures. Therefore, it's not enough to tell your team to protect their passwords. You have to train them on your organization's specific policies and procedures for password management. An effective way to train employees is to send out periodic security reminders and short training sessions.
Cybersecurity involves everyone at your organization. Show your staff that they must take an active role in security by taking an active role yourself. This means following policies and procedures, taking precautions, and reporting suspicious activity or suspected breaches immediately.
Need more help? Grab our Guide to Policy Management!
Without the right tools, policy management can be overwhelming. We've created this workflow to get you started.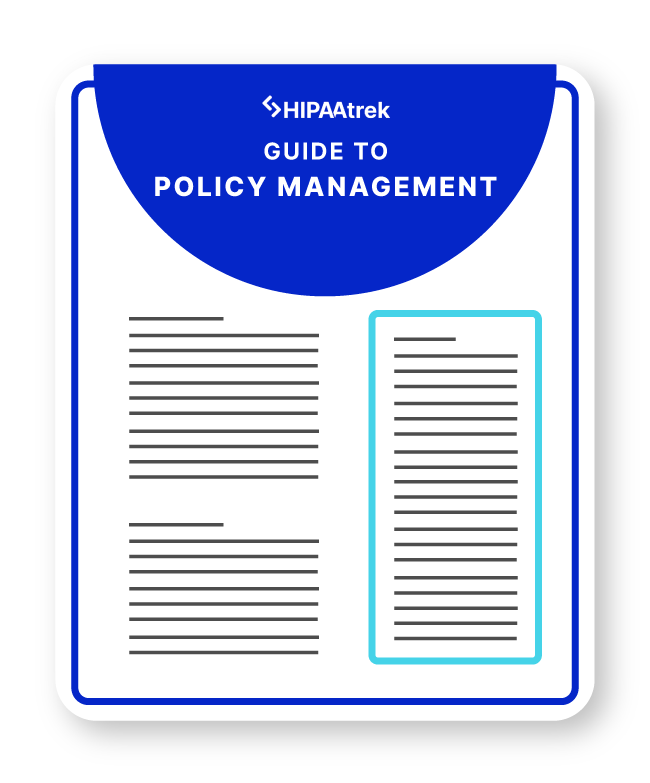 In the HIPAAtrek platform, you can create custom security reminders, manage policies and procedures, and schedule staff training sessions. Additionally, HIPAAtrek sends automatic reminders about login monitoring, password management, and malicious software to help make security a priority on your team. For more information, contact HIPAAtrek at support@hipaatrek.com.