We recently posted about the CMS Final Rule (CMS 9115-F), requiring providers and payers to use the emerging HL7 standard of Fast Healthcare Interoperability Resources (FHIR, pronounced FIRE) to share data with patients and other providers and payers. Still there is more to discuss, such as sharing relevant patient status data between providers.
Providers are also required to share HL7 Admission Discharge and Transfer (ADT) messages with other providers under the CMS Final Rule. These CMS requirements are shaping not only the interoperability and patient access for healthcare data, but also HIPAA policies, procedures, and access/control of data and information.
Along with the CMS Final Rule, is another rule, the Office of the National Coordinator of Healthcare IT (ONC, a part of the United States Health and Human Services Department), which is mandating provider Electronic Health Records also move to sharing patient data over FHIR (among other requirements). Thus, using FHIR as a standard, provider EHRs can use FHIR to connect to other provider EHRs, to payer systems, and to patients (patients will use applications developed by the app developer community and found in their respective app stores). HL7 ADT messages will allow for care coordination between providers by providing demographic messaging of admissions, transfers, discharges, and other activities. Information, including patient information and PHI, will more than likely be free flowing in the next 18-24 months.
Is your organization ready technically? How about your HIPAA policies and procedures/processes, are they ready as well? HIPAAtrek is closely following these requirements and can help. Let us help you tune up your HIPAA policies and procedures, while you build your infrastructure to meet these ONC and CMS requirements.
https://www.healthit.gov/curesrule/download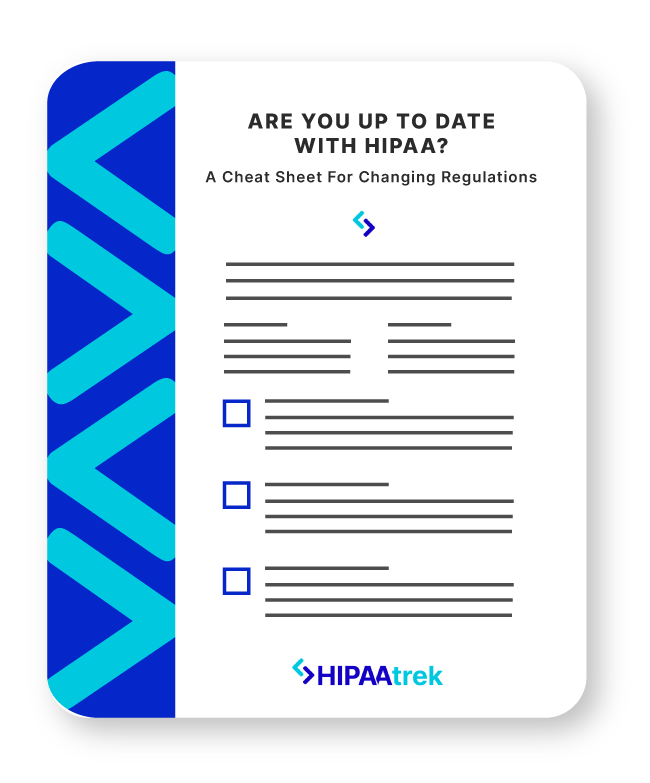 Are you up to date with HIPAA?
Check out our cheat sheet for staying up to date with changing regulations!