Checklists are popular in healthcare, particularly for doctors and nurses to use during certain procedures to improve patient safety. Though your compliance department won't use checklists for this purpose, there are ways you can use them to streamline your HIPAA program. Let's look at how to use checklists as a HIPAA training and compliance inspection tool.
Use Checklists to Train New Hires
Checklists are a handy tool you can use to train new hires on your HIPAA privacy and security procedures or other daily tasks. Here are four tips:
1. Create a workstation procedures checklist
Over time, employees often start to treat their work computers like their home computers. To combat carelessness and establish good habits, create a workstation procedures checklist. The new hire should review this checklist during the day or at the end of the day.
We suggest that you include the following questions on your workstation procedures checklist:
Is your workstation positioned so the public can't see your screen? (Desired answer: YES)
Did you log off each time you stepped away from your workstation? (Desired answer: YES)
Have you shared your password with anyone? (Desired answer: NO)
Did you use your workstation to browse the Internet or use social media? (Desired answer: NO)
Did you download any email attachments from unknown senders? (Desired answer: NO)
2. Create an "end of day" checklist
Having an "end of day" checklist helps a new hire make sure they've completed all their tasks and are ready to head home. This checklist will look different based on the employee's role. You may want to include some of the following questions:
Did you log out of your workstation? (Desired answer: YES)
Is your desk clear of sensitive information? (Desired answer: YES)
Did you shred all the documents in the shred box next to your desk? (Desired answer: YES)
Did you lock the door/enter the alarm code? (Desired answer: YES)
3. Track the new hire's completion rate
It's no good having checklists if you don't know whether your new hire is using them or not. If you use a paper checklist, consider posting it near the employee's desk or in a place both of you access frequently. Have them mark their answers to each question (✓ or X) and note the date.
If you use a digital checklist, make sure both you and the new hire have access to it. Review their responses every day so you can quickly address any issues you find.
4. Encourage question-asking and feedback
Similarly, you should provide some way for the new hire to note any confusion or concern they have with the procedures on your checklists. If they don't have immediate access to you, provide the name/contact of someone who can help them. If the concern is not time-sensitive, encourage the new hire to mark their questions or feedback on the checklist itself.
Again, make sure you check in frequently with the new hire to make sure they understand their daily responsibilities and address their questions in a timely manner.
Use Checklists for HIPAA Compliance Inspections
Checklists can also help you inspect or review your HIPAA procedures in a particular department or program. Many HIPAA-covered organizations use a HIPAA privacy and security walk-through checklist.
You can use this checklist to walk through a department in your organization and answer compliance questions, such as:
Is the Notice of Privacy Practices posted where patients can see it?
Are the trash cans free of PHI?
Are computers locked or logged off when staff leave them unattended?
Need More Guidance? Grab Our PHI Decision Tree!
This simple cheat sheet makes it easy to recognize when you're interacting with protected health information.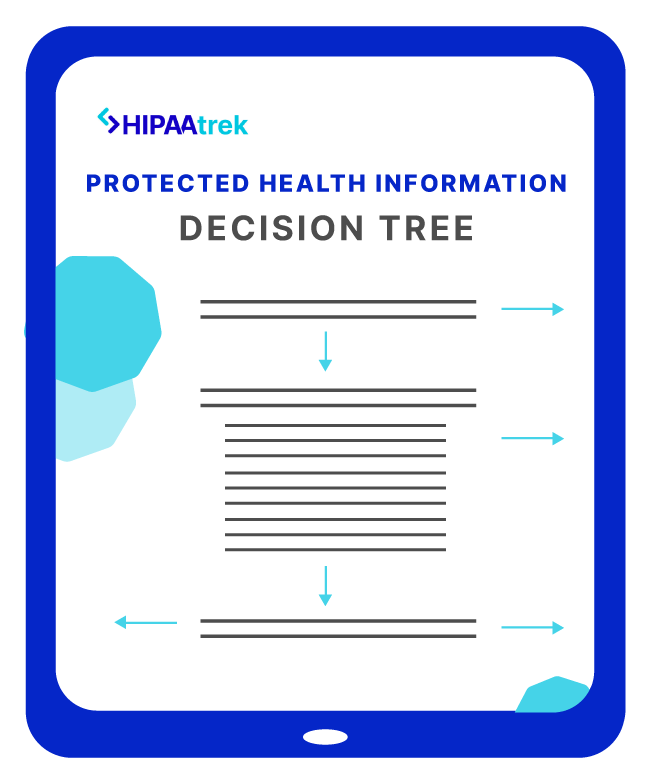 Want a Little Extra Help?
Consider using a checklist tool so that multiple departments and employees within your organization can use the same checklists. Our software, HIPAAtrek, has a module dedicated to compliance checklists. This is a flexible tool that allows you to:
Build HIPAA training and daily procedures checklists and assign them to employees
Keep tabs on employees' answers by going to a checklist's Summary page
Leave comments and questions as you fill out checklists
Build a HIPAA privacy and security walk-through checklist
Create checklists for any department where procedures must be confirmed, such as the Pharmacy Inventory, Nursing Medication Drawer, or Accounts and Receiving billing procedures
See your checklists' completion status from the Dashboard
Contact us to learn more about the checklist tool, as well as HIPAAtrek's other compliance management features.