As a HIPAA compliance professional, it can seem like you're running from one disaster to the next. You're so busy putting out "fires" all day that you barely have time to work on your HIPAA compliance program before another ember ignites. It seems you only have time to react to HIPAA emergencies as they arise. However, it's dangerous to fall into this
pattern of reactive compliance. Before you know it, a serious HIPAA violation may confront your organization. Are you prepared to deal with it?
Risks of Reactive HIPAA Compliance
At its start, HIPAA had no "teeth." It detailed how covered entities (CEs) must protect patient information but could do little to enforce its own standards. Now, the U.S. Department of Health and Human Services Office for Civil Rights (HHS/OCR) audits CEs to make sure they're HIPAA compliant. This was a wake-up call to these organizations.
Furthermore, with the rise of cybercrime and other threats, there is no doubt your organization will face a data breach. Breaches often result in lost protected health information (PHI) and patient harm. If you fail to put privacy and security controls in place, your organization will most likely experience breaches. You must report breaches to HHS/OCR, who will audit your organization and impose fines for your negligence. OCR fines can reach up to $1.5 million per violation per year.
Proactive vs. Reactive HIPAA Compliance
You should treat HIPAA compliance like physicians treat risky behavior in their patients. For example, a doctor may tell her at-risk patient that obesity and a sedentary lifestyle can lead to hypertension, kidney disease, diabetes, and other conditions. She may advise him to take a proactive approach to his wellbeing, such as dieting and exercising. These lifestyle changes help prevent diseases and other conditions. The doctor may warn her patient about the long-lasting consequences of failing to take preventative steps. Clearly, reactive treatment to disease has a worse health outcome than proactive prevention.
The same is true of HIPAA compliance. You must be proactively compliant, rather than waiting to treat the aftermath. Proactive compliance will keep your organization "healthy" in the eyes of the OCR. Besides, the privacy and security of patient PHI should always be a priority.
Take the First Steps Towards Proactive HIPAA Compliance
There's no doubt you must switch gears from reactive to proactive compliance. But how can you develop your HIPAA compliance program when you're busy putting out fires every day? Rebuilding your compliance program from the ground up will take time. However, you should get started right away with these three steps:
Risk analysis. Risk analyses aren't optional for CEs and their business associates. They identify potential threats and vulnerabilities in your systems and processes that could result in a breach. From there, you will develop a risk management plan to reduce your risk to a reasonable level.
Policies and procedures. Next, assess your current policies and procedures to see where they're lacking. Once you have robust policies and procedures, don't stop there. Make sure you and your staff follow them and document your compliance efforts. The OCR will ask to see documentation when they audit your organization.
Contingency planning. Contingency plans describe how you should respond to disasters, such as manmade, natural, environmental, or external disasters. This step is vital as you prepare to defend your organization against threats.
There are many moving parts to HIPAA compliance, which is why it isn't a one-and-done checkbox. Your organization will go through changes and encounter new threats. Therefore, you must always look to refine and improve your HIPAA compliance efforts. It's a journey you must take one step at a time. However, there are many tools and resources to help you along the way. HHS supplies a wealth of information to help you become – and remain – HIPAA compliant.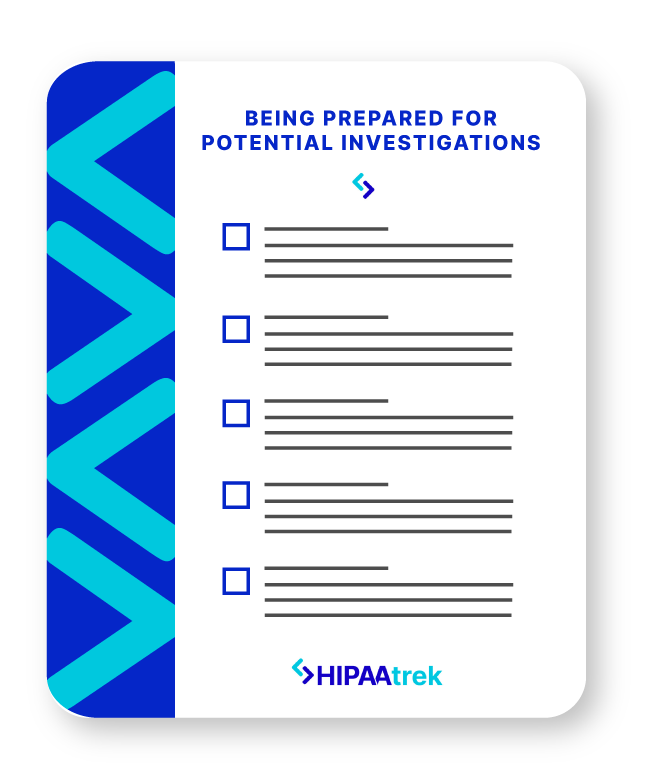 Are you prepared for a potential investigation?
Don't wait until the Office of Civil Rights (OCR) comes knocking. Use this checklist to prepare now for potential investigations and find the confidence that comes from knowing you can prove compliance.
The HIPAAtrek platform is a guide on your HIPAA compliance journey. From an integrated risk analysis tool to policies and procedures, HIPAAtrek helps you maintain an auditable trail of compliance. Request a demo or contact us for more information.