At HIPAAtrek, we are always looking for new ways to simplify the process of achieving HIPAA compliance, and that's why today we are proud to announce a new partnership with MedTrio.
Through this innovative new integration, we are joining forces with the EMR software  to simplify access to our HIPAA compliance tools through the MedTrio platform.
Despite a common misconception in the Healthcare industry, HIPAA compliance is not generally within the scope of EMR software. But now, thanks to our new integration with MedTrio, it is easy to manage HIPAA tasks in partnership with an EMR.
These two crucial functions that healthcare organizations depend upon are now available in one place with HIPAAtrek and MedTrio. We are excited for this new partnership and to bring HIPAA compliance tools to the MedTrio community.
Complete Practice Management with MedTrio
MedTrio is a flexible, scalable EMR and PM solution that is focused on offering premium products that support healthcare providers.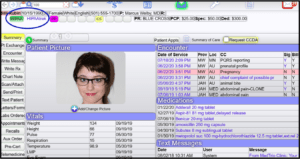 Built in partnership with doctors and staff to provide the best possible user experience, it comes as no surprise that MedTrio is doubling down on that ease of use through this partnership.
In partnering with HIPAAtrek, MedTrio is now able to offer a true complete practice management platform, including HIPAA compliance tasks, the likes of which you won't find anywhere else.
Uplevel Your EMR with HIPAA Compliance Tools
What does this new partnership mean for MedTrio customers? Now, a single sign in will bring you not only the EMR and PM functionality you already know from MedTrio, but HIPAAtrek compliance management as well.
After signing up for this new integration with the MedTrio team, you will be able to click to connect to HIPAAtrek, right from your MedTrio account.
Landing directly in your HIPAAtrek account, you can get to work managing BAAs, policies, training modules, and more. Automate security reminders, report incidents, and assess your organization's risk, all in one platform.
Learn More
With HIPAA enforcement increasing and new proposed policy modifications, it is critically important for healthcare organizations to remain in control of HIPAA compliance. Through this new partnership, it will be easier than ever for MedTrio customers to do exactly that.
To add HIPAAtrek to your MedTrio software or schedule a demo, get in touch with the medtrio team here.